(c) BEDTIME-STORY CLASSICS ILLUSTRATED EDITION January 1999
With the return of Lewis Carroll's bizarre yet unforgettable story to the silver screen, I thought it might be interesting to take a look at Alice's Wonderland through the eyes of both the author and his audience at the time of it's original publishing.
Down the Rabbit-Hole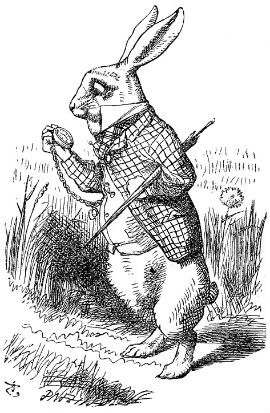 Alice meets the Catepillar
A Mad Tea Party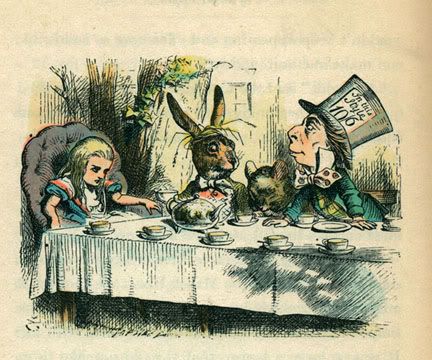 Alice trying to play croquet with flamingo and hedgehog
Giant Alice upsets the jury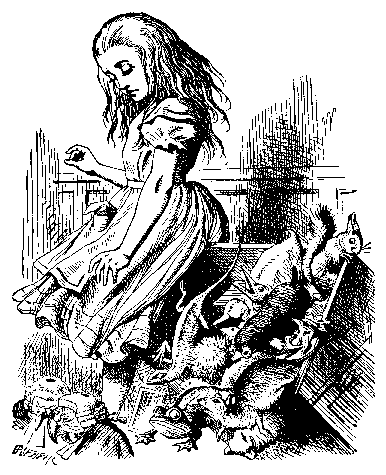 "You're nothing but a pack of cards!"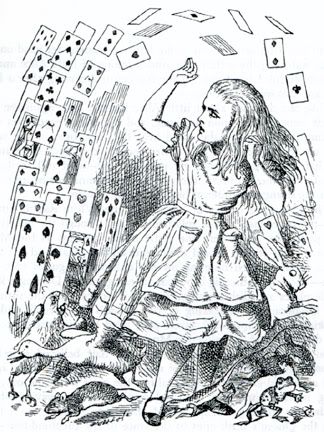 Unfortunately, I don't own the book. I have read about half of it, and would love the opportunity to finish. While looking for these illustrations, I came across this great video of a 1903 silent version of Alice in Wonderland. What's fascinating is that there is only one known copy of the original film known to exist.
Unfortunately, parts of the film are missing. and it's thanks to the British Film Institute there is even a film to view. They were responsible for the a partial restoration and for that, I am grateful. This film was made only 38 years after the book was published, which gives greater insight on how Carroll's generation viewed the book.
Great anthropological material!
All images by illustrator Sir John Tenniel.